Stylist: Kyle Luu
Outfit: Gucci by Alessandro Michele
Makeup Artist: Kali Kennedy using Danessa Myricks
Hairstylist: Malcolm Marquez
Minaudière: Gucci
Shoes: Gucci
During the Toronto International Film Festival 2021, I fell in love with a red carpet look from actress and musician Amandla Stenberg. The event in question was the "Dear Evan Hansen" premiere on September 09, 2021.

For the festival, Stenberg was seen wearing a Gucci Aria leather cropped top with an all-over crystal top, embroidered lace pencil skirt, silver knotted platform sandals and crystal anatomical heart-shaped minaudière.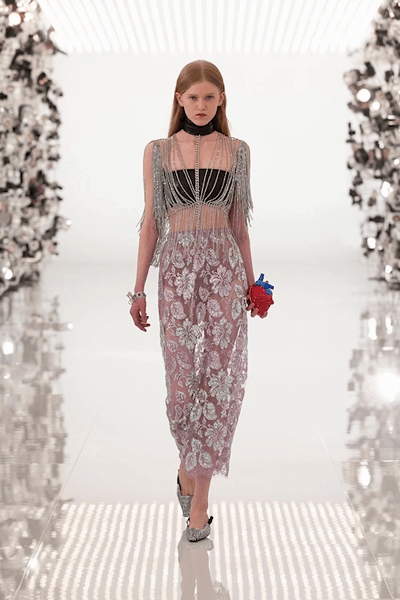 There wasn't a lot of information regarding the whole fit, which clearly speaks for itself, but I managed to find an article by NSSMag.com that explained the meaning of the Gucci heart-shaped minaudière Amandla was spotted wearing on the red carpet: "Gucci's minaudière has the anatomical shape of a heart. The choice was certainly due to the desire to create a suggestive and somewhat weird accessory […] that was a compromise solution between the fin-de-siècle luxury loved by Michele and his taste for a styling with an esoteric flavor. A version of the minaudière was covered in rhinestones–a visual theme of the collection that refers to the world of parties, which was also one of the visual and narrative themes of fashion film."

"The symbolic "heart" represented by the minaudière is that of Gucci itself, which passes intact from decade to decade through the many reincarnations of Gucci. The accessory therefore indicates the passion for the brand and its wide mythology […] that remains unchanged through eras and changes of hands–as if to say that Gucci is unique and it will remain so forever."
I found it truly fascinating, even more so for a red carpet that is not as mainstream as others.
━━━━━━━━━━━━
Dear Evan Hansen is a 2021 American coming-of-age musical teen drama film directed by Stephen Chbosky from a screenplay by Steven Levenson. It is based on the 2015 stage musical of the same name by Levenson, Benj Pasek, and Justin Paul.
In the movie, Amandla Stenberg plays the role of Alana Beck, a high school senior whose cheery facade and social-media savvy mask a deeper loneliness and isolation, and whose response to the death of a classmate ignites a movement.
Stenberg also sings a new original song composed for the film, which she co-wrote in collaboration with Pasek and Paul.