Stylist: Sam Ratelle assisted by Ashley Marie
Outfit: custom The Blonds by Phillipe Blond and David Blond
Makeup Artist: La Sonya Gunter using Pat McGrath Labs
assisted by Michael Clifton
Handbag: These Pink Lips
Shoes: custom Giuseppe Zanotti
Jewelry: Andreoli | John Hardy | Mordekai | Oscar Heyman

One of the most incredible outfits in MET Gala history was Billy Porter's custom The Blonds ensemble for the 2019 celebration of camp. 6 weeks to design it and 5 hours on the makeup chair to get ready for the night.

Porter explained to Vogue.com that while he was brainstorming for the outfit, the inspiration struck him after a phone call with Ryan Murphy, the creator of Pose. Murphy suggested him to opt for many outfit changes like Diana Ross did in the movie Mahogany (1975). It was too much work for Billy, so he decided to go for the Ancient Egypt look of the many, adding other inspirations such as Elizabeth Taylor in Cleopatra, Cher in her many outfits, while designers Phillipe Blond and David Blond were inspired by Pepper LaBeija (an American drag queen and fashion designer who died in 2003–she died of a heart attack but was suffering from diabetes mellitus type 2 and had both feet amputated).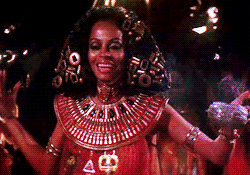 The designers Philippe and David further explained how the outfit was created: "Each piece took several months to create. Customized for Billy, the catsuit was embellished by hand with a mix of Preciosa Crystals and chain fringe, as well as gold bugle beads. This is meant to emulate the rays of the sun as they catch and move the light.
The wing cape is an archival piece, and it is comprised of gold baguettes, crystals, and beads, all anchored with caviar beads. Each wing was made to look three dimensional by using tube beads as stilts to raise certain areas. In all, Billy will be wearing well over a million crystals, beads, and chains!"

Trying not to make it too costume-y, the bearers he had on the red carpet were dressed in metallic jeans in order to add some modern accents to the whole scene; one important thing was the pose too, and Billy definitely mimicked the poses of deities such as Isis.
The handbag you can spot backstage, with the writing "Fuck U Pay Me" has a little backstory: Porter's stylist, Sam Ratelle, found it at Patricia Field's ARTFashion Gallery in New York City, and as Ratelle revealed to Insider.com: "Billy Porter has had a career for 30 years, so it was an homage to celebrating that he's cashing in now after the hard work. […] I picked it out because it speaks about celebrating that we deserve to be here, we deserve to have money. It's kind of been a motto in a way. […] I've been homeless before, and he's spoken in the press about being bankrupt, too. To me, it's really all about monetizing artistry, that's the reason why I chose the bag."

Needless to say it, Porter wore it several times whenever he wanted to remind people to know their worth.
The makeup was provided by Pat McGrath Labs, you can see makeup artist La Sonya Gunter doing her magic on Billy's face, by reading further down below.
The look was accessorized with a carefully curated selection of jewelry: two Oscar Heyman rings on his middle fingers, a pinky ring featuring a black onyx with yellow sapphires and a second one in white mother of pearl with yellow sapphires by Andreoli Fine Jewelry, turquoise statement rings by John Hardy, a Mordekai Sun ring and Mordekai gold nail rings from the "Black Madonna" collection.
In his Instagram stories, stylist Sam Ratelle explained that Egyptians used to use "stalls" on their fingers and toes made out of gold and that was were the inspiration for the nails came from.
His shoes were a custom pair of New York glitter Giuseppe Zanotti.
Check the red carpet and Vogue videos down below to hear the whole story and its meaning directly from Billy Porter.